Pocket Clip pen type bimetal Thermometer
CHUEN CHARNG CO LTD
works with customers at all stages, from the design process to early engineering collaboration to hands-on customer support and on-time delivery. We create superior customer experiences and successful outcomes. We are a global manufacturer of high quality
pen type bimetal thermometer
and our company's internal strategy to continually improve quality and delivery meant the
pen type bimetal thermometer
was a product fit for the customers. We maintain the top brands collection of modern equipment to meet the best requirements of our clients. All our
pen type bimetal thermometers
are designed with new innovatory features which make them superior in performance, advanced in quality, consistent and highly sustainable.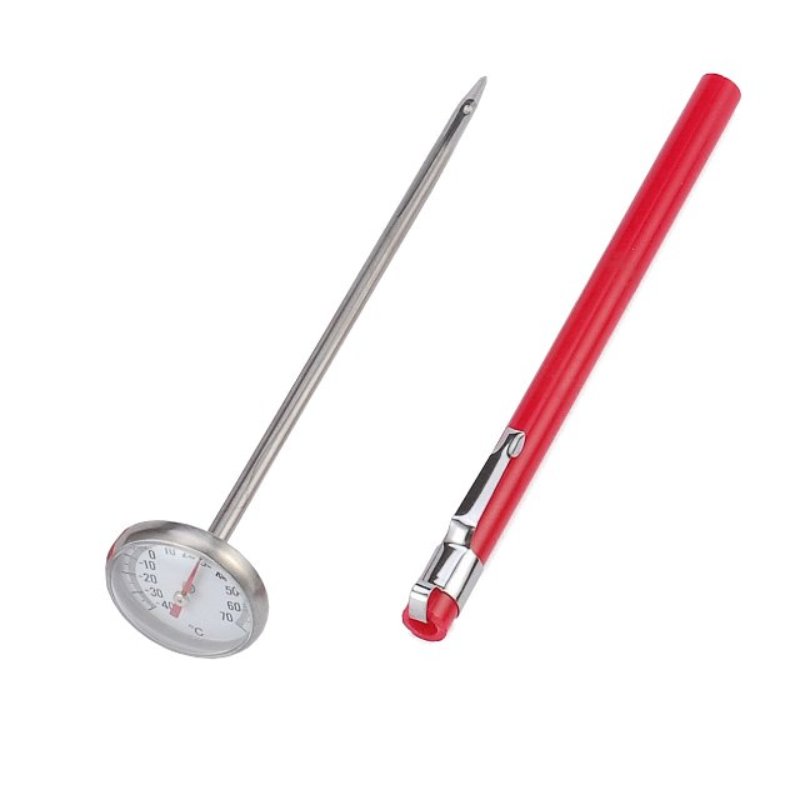 C100-1 SERIES
Pocket Clip pen type bimetal Thermometer
This pocket thermometer is furnished standard in one size, 1" dial, stainless steel case with clear plastic lens. A protective case with clip allows the thermometer can be safely put in your pocket. It also can be easily recalibrated by holding the hex nut at back of case firmly. It has been widely used at home, other industries, especially food service.


Application:

general testing, air conditioning, hot asphalt, food, refrigeration, medical, laboratory
Specification :
Size:  1" (25mm)
Measuring Range: -50°C up to 300°C
Dial: white aluminum with markings and graduations
Window: polycarbonate
Pointer: black finished aluminum
Construction: hermetic seal, 304 stainless steel
Stem: 304 stainless steel, 4mm O.D. x 5" standard
Sensible Medium: bi-metallic strip
Accuracy: ± 1% of full scale
Sheath: protective plastic clip
Trade Information :
Country of Origin :

China

Main Export Markets :

North America, Europe, Southeast Asia
Payment Details :
Payment Terms :

T/T, Paypal
Delivery Details :
Lead Time :

30 Days

FOB Port :

Shanghai
CHUEN CHARNG CO LTD
understands that an online business is about allowing you the customer an easier option to shop and providing you an alternative from the hectic life you lead. Also, Our company offers high quality
pen type bimetal thermometer
with reasonable price. Our work is dedicated to the creation of progress with inspiring, innovative solutions and to a trusting partnership towards our customers and partners with common benefits. Let us assist with your requirement and question of
pen type bimetal thermometer
.